On our way back home from our weekend getaway, my husband and I decided to stop at the West Fest in West, Texas (home of the Czech Stop that makes the dreamiest kolaches). It's right off I-35, about halfway between Arlington and Austin. Here's my photo journal of West Fest, 9-4-2011.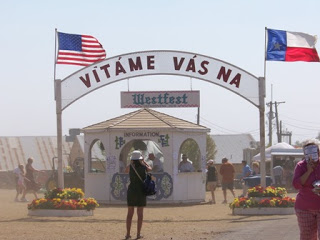 The winds were whipping about 50 mph. See the dust fly?
One spot where the wind wasn't blowing!
Big food and drink tent!
Lots of great vendors with handmade gifts.
My favorite item in the vendor craft area.
No fair is complete without a fake Elvis.
Cotton candy and a merry go round. Need I say more?