Disclosure: I was provided lunch at no charge in exchange for my honest review.
Located in the fast-growing city of Cedar Park, Texas, Zoe's Kitchen introduces its simple, tasty, and fresh
Mediterranean cuisine
.
You can dine inside or on the outdoor patio under shade umbrellas. It's a wonderful atomsphere!
Their "Fresh Take" tubs to go include hummus, tuna salad, pimento cheese, fresh fruit, chicken salad, potato salad, pasta salad, egg salad, and marinated slaw.
Zoe's Kitchen offers catering and gift cards. Be sure to download the Zoe's Kitchen Mobile App for daily inspiration, goodies, and challenges.
Goodwin Clark, manager of the Cedar Park location, offers a huge smile to each customer. Who wouldn't smile with a chocolate chip cookie that big?
Their self-service drink bar features sodas and teas, but you can order wine and beer at the counter.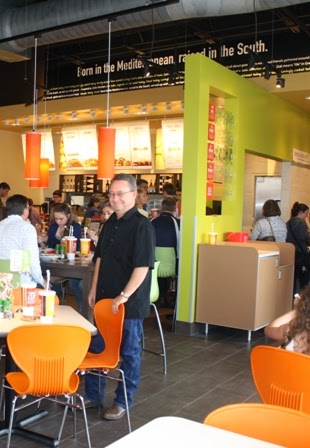 The bright colorful decor in the dining area is impeccably clean (as well as the restrooms). The service is fast and friendly, plus your order is brought to your table.
The food is amazing!!! I thoroughly enjoyed the Steak Kabobs with red bell pepper, onions, grilled potatoes, and roasted vegetables. Their steak is better than I've had in expensive restaurants.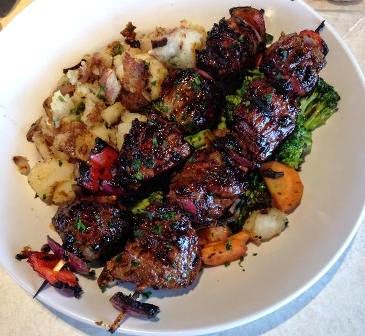 My husband enjoyed the Steak Stack Grilled Sandwich with portobello, mozzarella, caramelized onions, feta spread, tomato, sourdough, and rosemary oil, plus a side of potato salad. I tasted his meal and it was incredible too.
Zoe's Kitchen menu features something for everyone, including classic sandwiches like sliced turkey breast with fresh vegetables on 7-grain bread, pita sandwiches like Greek Chicken and Mediterranean Tuna, and entrees like Spinach Roll-Ups, Veggie Pita Pizza, Shrimp Kabobs, and much more.
If your diet is vegetarian, vegan, or gluten-free, Zoe's Kitchen menus make it easy to find the meals for you. Plus there is a Kids Menu so your children can come along and enjoy. I highly recommend Zoe's Kitchen!
Visit
www.zoeskitchen.com
to see the entire menu, learn about catering, or to order today's lunch! Zoe's Kitchen in Cedar Park, Texas, is located at 905 East Whitestone Blvd., Suite H, but there are locations across Texas, Oklahoma, Louisiana, Arizona, Arkansas, Tennessee, Kentucky and many more along the eastern coast.