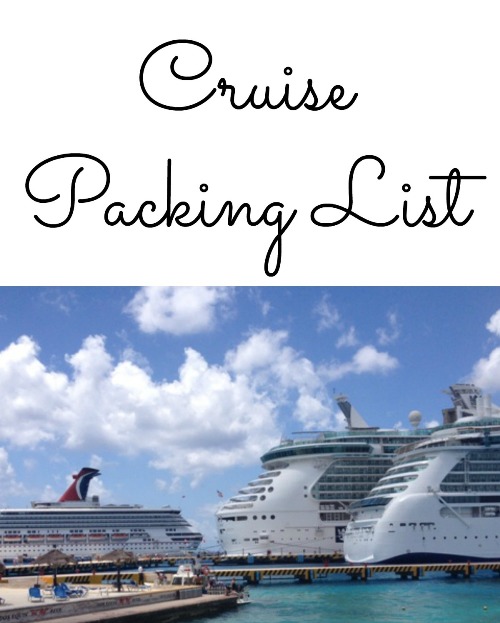 This is my Cruise Packing List that I used for my past Caribbean cruises. I hope it helps you plan your wonderful cruise vacation!
NOTE; If you're cruising in colder climates, then pack warmer clothes than those on this list.
TIP: (roll clothes instead of folding them to keep them from wrinkling as much)
electronics (ex ipod, phone, laptop) and chargers (can pay for onboard wifi) (set phone to airplane mode for entire cruise to avoid outrageous charges)
camera and charger
sunscreen and aloe in case of burn
dramamine
advil
bandaids
q-tips
shampoo, conditioner
deodorant
roll on perfume or creme perfume
soap or shower gel
lotion
Rx meds in original containers
sunglasses
hair ties and clips (can be very windy)
hat or cap or visor
big purse or tote bag for excursions (label with name and address on and in)
small wristlet purse
cash and credit cards (call your credit card companies before you leave and tell them you're traveling internationally)
ziploc bags (for wet swimsuits on the way home)
lip balm
id holder and lanyard (for your cruise pass/key)
waterproof phone holder (for excursions)
travel docs and passport
phone numbers (on paper) to the US embassies in the countries you'll be visiting, just in case (take on excursions)
razor
toothpaste, toothbrush, floss
glasses/reading glasses
shorts (one per day)
capris
jeans
skirt
tops (all sleeve lengths)
sundress
one dressy outfit for formal night (including nice shoes)
2 swimsuits
underpants
bras
socks
1 lightweight jacket
jewelry
watch (phone may or may not work and time zones are screwy on smartphones)
COMFY shoes: (sandals or flip flops, water shoes, and closed toe shoes for walking) - Cruise ships are HUGE. You will do TONS of walking. Also, check the cruise itinerary for special events like "White Night Party" where everyone wears all white.