Disclosure: I received product at no charge in exchange for my honest review.
If you're anything like me, you probably own several devices. As compact as my laptop is, I prefer to take my tablet along when I'm traveling. It's much lighter in weight and much smaller in size. I've tried several different tablet cases over the years, including zipper cases, snap-on cases, and even a case that wraps around my tablet like a notebook with a magnetic tab. None of them compare to the features of the
Porte Play Tablet Case
.
The stylish Porte Play Tablet Case offers so much more than just a place to stick my tablet. It's designed with beautiful, durable fabric in colors that both men and women will love. It comes in several professional designs and I chose the
Mint Tablet Case
. It measures 8"x10.5" so it securely holds a 9.4" tablet. My current tablet is only a mini, and the Porte Play Tablet Case still holds it without worry.
The Porte Play Tablet Case features a double zipper so you can zip it from the top or bottom. Inside, there is a padded inner tablet pocket that features two velcro closure tabs so I never have to worry that my tablet will slide out onto the ground when I unzip the case. The tablet case also easily fits into a backpack, a tote, and even my favorite handbag.
The Porte Play
tablet case
also has a large mesh zipper pocket and several elastic strap pockets for chargers, cables, and cords. The mesh pocket is big enough for my mp3 player and my phone too. It's beautifully designed for all the things I carry around with me. I also really love the exterior strap on the Porte Play Tablet Case.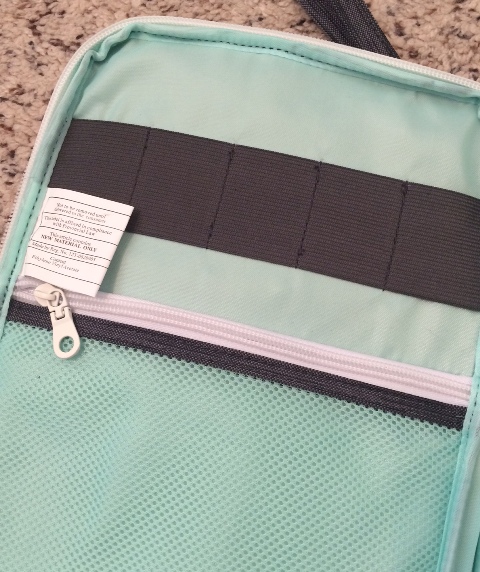 Porte Play tucked a few gifts into my shipment...these cord holders are perfect for keeping my earphones from getting all tangled up, and they fit perfectly into the mesh pocket of my Porte Play Tablet Case. I'm extremely impressed with the high quality and careful design of this tablet case. I highly recommend Porte Play!
The Porte Play Tablet Case is just $17.99 making it the perfect gift idea for anyone and everyone who owns a tablet. Check out their entire product line for gadgets at
porteplay.com
and get something for everyone on your holiday gift list!