Disclosure: I received product at no charge in exchange for my honest review.
My grandchildren all live out of state and I don't get to see them often.
Gramma in a Box
is such a wonderful idea and I'm excited to share this with you! It's a monthly subscription box to send to your grandchildren or have it delivered to your own house so you have activities to do together when they visit.
Gramma in a Box
comes with all the supplies you and your grandkids will need for several fun activities. I just received the August Gramma in a Box and I was so surprised that even the cookies came pre-made and the frosting came in little frosting bags, all ready to use! Also enclosed in the box are step by step directions for each activity.
The first activity in the August box is Goldfish Bowls, made of marshmallows, melted chocolate, graham cracker crumbs, and goldfish crackers. It's so much fun to make sweet treats with children and Gramma in a Box activities are memorable and unique.
The second activity is Seashell Pretzels, made with pretzels, melted chocolate, sprinkles, and seashell shaped chocolate candies. Gramma in a Box even includes things like the wax paper to set treats on until the chocolate sets up. I love treats that are sweet and salty!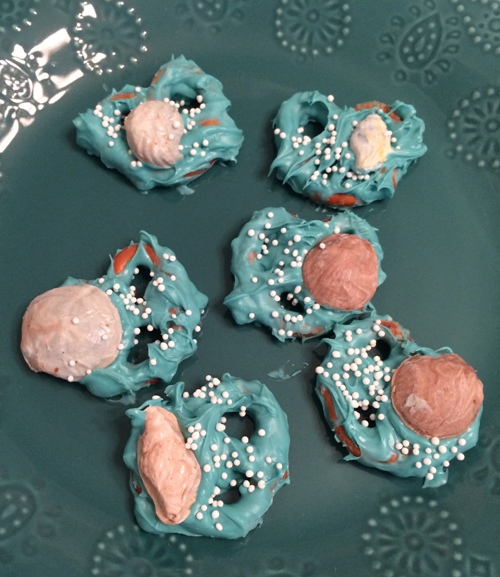 The third activity is Sea Life Cookie Decorating. If you do this activity last, you can also use any leftovers from the previous two activities to decorate the cookies, in addition to using the frosting and sprinkles set aside for the cookies.
Gramma in a Box
is a fabulous idea! It's filled with quality treats that will delight everyone.
Gramma in a Box
is perfect for: grandparents who spend time with their grandchildren; grandparents who want to send something to their grandchildren because they don't see them as often as they'd like; nieces and nephews; college students; stay at home date night for couples; and even parents who want a fun activity with their children without all the work! Gramma in a Box is perfect for everyone!
delivered monthly to your house
or your grandchildren's house.
to see creations from other months.