Disclosure: I received product at no charge in exchange for my honest review. Post contains affiliate links.
Kids love to be creative and it is important that we, as adults, foster their creativity and provide lots of opportunities for children to have access to different kinds of art media. If your family is constantly on the move, you can still provide creative outlets for your kids that don't require paint, clay, markers, or even crayons. The
Jumbo Magnatab
is a mess-free, self-contained creative toy that can go anywhere your child goes!
The Jumbo Magnatab from Kid O is a free-form drawing tablet that also glows in the dark, which is fabulous for families that travel at night, especially in a car. I'm willing to bet it's also a favorite of kids who like to stay up and play under the covers after mom and dad put them to bed. Jumbo Magnatab is filled with tiny little magnetic balls that are permanently locked inside the tab case.
The "pen" is actually a magnetic stylus that pulls each magnetic ball up to the surface of the tablet case and clicks it into place. It also works as the "eraser" because when the stylus is turned sideways, it can be swept across the face of the tablet to knock all the balls back down inside the case. The stylus stores conveniently in its own spot on the front of the
Jumbo Magnatab
.
The Jumbo Magnatab measures just over 9" x 7" and its slim design easily fits into any backpack, book bag, and even a back-of-the-seat pocket in the car. Designed for ages 3 and up, Jumbo Magnatab will entertain children for hours. The possibilities for fun and creativity are endless! As a child development specialist, I give Kid O five stars for the Glow In The Dark Jumbo Magnatab!
The glow in the dark aspect of the
Jumbo Magnatab
makes this toy superior to similar products. I love that it creates no mess, love that it can go anywhere, and love that it is all self-contained. I tried to get the little magnetic balls to come out, but they stayed securely in the case. This is an excellent gift idea for either boys or girls, and especially for the age 3-10 crowd!
**Bonus - it requires NO batteries!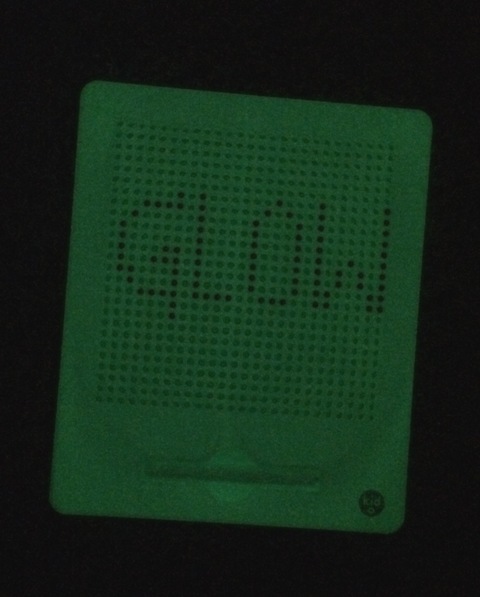 for your favorite kids for the holidays!