Disclosure: I received product at no charge in exchange for my honest review.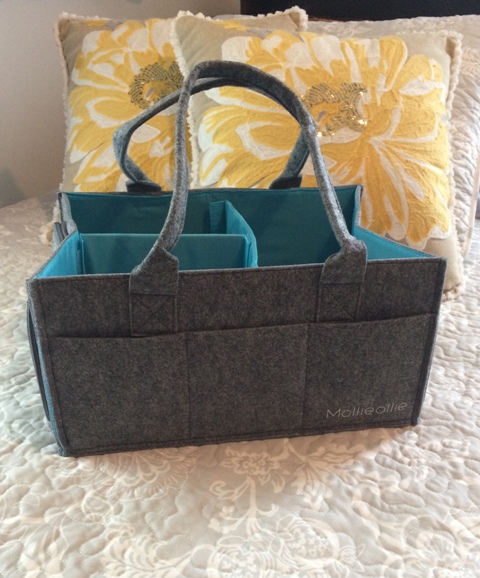 I am often teased about how organized I like to keep things, but I'm also the person who knows where everything is at when no one else can find it. The
Mimmo Caddy
from Mollie Ollie is one of the most wonderful storage caddies I've ever used. It's just big enough to store tons of stuff, while still being compact enough to fit almost anywhere.
It's made of beautiful colors that complement any decor, and since I love the farmhouse style, the gray and blue fits right into my home. I love the materials Mollie Ollie uses to create their Mimmo Caddy - a 5mm heavy duty felt material for the exterior and smooth, resilient polyester lining that's easy to wipe clean.
Mimmo Caddy
measures 14.5" x 9.5" x 7" plus it has two removable dividers. The workmanship is superior, with a reinforced base, enhanced stitching on the handles, and very sturdy construction. I was delighted that it didn't have any chemical smell, so it's safe to use around babies and would make a great diaper storage bin in a baby's room.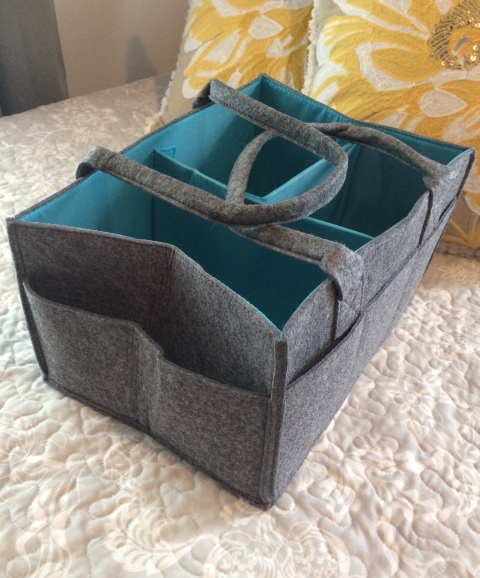 You'll find it super simple to store all your stuff, with 8 pockets of various sizes, including a zippered exterior pocket with 5 elastic loops for easy access and smart organization. Mimmo Caddy is also lightweight and the handles are just long enough to make it super comfortable to carry. It's marketed as a diaper caddy, but there are hundreds of ways to use it!
If for some reason you want to store it away, it folds down easily too. I could truly see using the
Mimmo Caddy
in every room of my home in one way or another. Here are some ways Mollie Ollie suggests you use it: Baby Diaper Organizer, Portable Nursing Station, Road Trip Tote, Car Seat Organizer, Knitting Supplies Basket, Arts and Crafts Bag, Laundry Storage Bin, Essential Oils Tote, Cosmetic and Skincare Storage Bin, Toy Storage Organizer, and Stationary Organizer.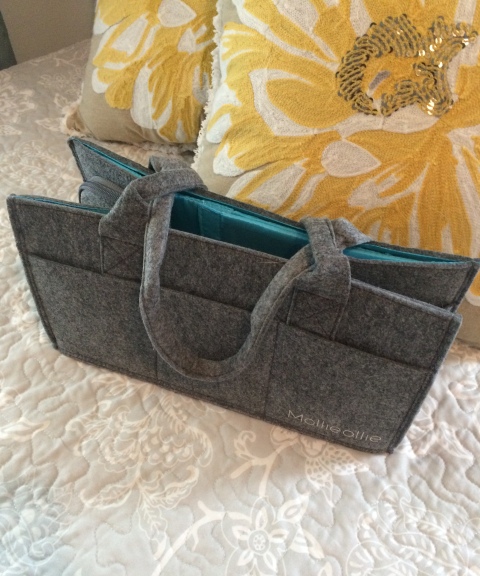 I came up with some great ideas too! I put together a Get Well Soon caddy, with a large size tissue box, a package of baby wipes, and a package of cleaning wipes, for those days when someone isn't feeling well and needs extra loving care and a clean environment. Tuck in a magazine or coloring book, and you've got a great gift for someone who is under the weather.
I also put together a Kid's Quiet Box, to take along on trips to the doctor or dentist, so your child can have their own toys and snacks on hand, rather than play with the germy toys that are often found in waiting rooms. Kids could also use this to keep busy on a rainy day while their younger siblings take a nap. It would also make a great after-school activity bin.
I think my favorite idea is my Painting Caddy. It stores lots of my paints, brushes, and other creative tools all in one space. I would love to have dozens of these Mimmo Caddy organizers all lined up on my pantry shelves to organize different food staple items, health and beauty supplies, household tools, and more! What will YOU put in your
Mimmo Caddy
?
Order this amazing Mimmo Caddy from Mollie Ollie in the next two weeks and use the code

10Weidknecht

for 10% discount.