#sponsored travel
The Island of
Nevis
has many wonderful restaurants and it's only fitting that the first meal I ate while I was there for the Nevis Mango Fest was one named
Mango
. Located at the Four Seasons on the Caribbean Sea side, Mango is an open-air patio with a fabulous view. It's a wonderful place to watch a sunset.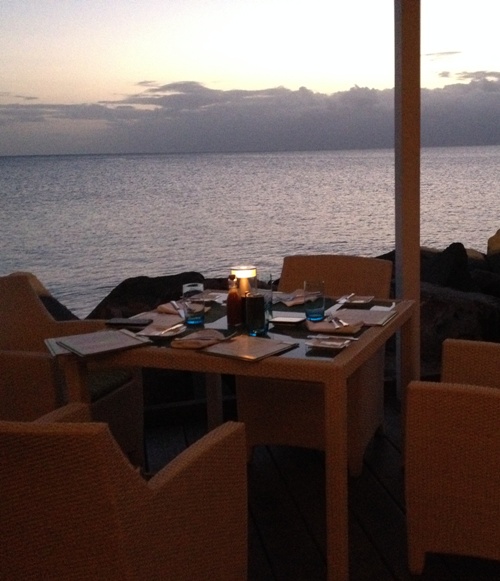 As darkness falls, Mango turns on lights to shine on the water and the fish come up to the light. The large barracuda soon follow, darting through the waters hunting the fish. It's an amazing sight to watch their silvery reflections swimming through the waters just feet away. We could also see the lights from the island of St. Kitts across the sea.
Guest Chef Scott Higby, from the Four Seasons in my hometown of Austin Texas, was featuring a special menu at Mango on the evening of July 5. Who knew so many foods could be made to celebrate the delicious mango fruit?
I started with a Mangojito to drink, which was absolutely delicious. I dined with Greg Philip, the CEO of the Nevis Tourism Authority and Alistair Forrest, the General Manager of Nisbet Plantation. We had a wonderful meal and fantastic conversation in a tranquil environment.
Mango Gazpacho
Smoked Quail
Mango Goat Cheese Mousse
Definitely a five-star meal!