Disclosure: I received product at no charge in exchange for my honest review.
You may remember the childhood game of hot potato - the music stops and you're out.
Pass The Pup
is a game that is similar to hot potato, but much more fun and much more inclusive. This adorable pup features built-in music that a player activates by squeezing the pup's paw. Once the music begins, pass the pup around the circle until the music stops.
When the music stops, the player holding the pup pulls one card from the secret pocket in the back of the pup and does whatever the card tells them to do - bark, wag, scratch, dig, roll over, shake, and other fun ways to pretend to be a dog. No one has to be "the loser" and the music can start again for another round.
Pass The Pup
is a great way to start playing games with your youngster. The pup comes with the cards, as well as instructions, but you can set whatever rules you want at the beginning of the game. You can even have all the players do what is on the card to make it more inclusive. It's a great family game, and would also be a fabulous activity for a daycare classroom (age 3 and up) or a kindergarten classroom.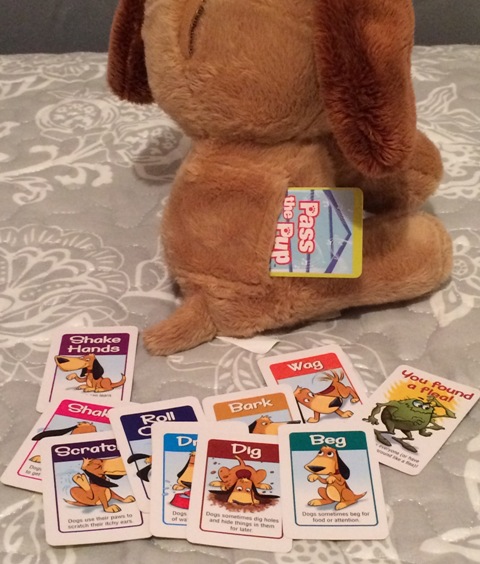 PlayMonster is one of my favorite toy distributors! They feature amazing toys and games that help children to learn while they play.
Pass The Pup
helps your child develop skills like: taking turns, following directions, beginning reading (with pictures and simple words), hand-eye coordination, and social skills. Best of all, everyone will have howling good time!
for your favorite little ones this holiday season!