#sponsored travel
While I was on the island of Nevis, I stayed at
The Hermitage Plantation
so it was only natural that I should have breakfast there all week long. One morning, I was offered a glass of cherry juice and the waiter brought me the glass of juice you can see in the picture above. I asked about it since I was expecting a red juice. He told me it is juice made from the fruit of the cashew tree and they call it a cherry in Nevis. I love cashews and didn't even realize the cashew tree fruits could be eaten!
It has a wonderful sweet taste and I had two glasses of it! The cashew tree where the fruit was taken for the juice stands just inside the entrance to The Hermitage. I also learned that each cashew fruit only produces one cashew seed. Each seed is then broken open by hand to get to the cashew nut, which is then roasted for us to eat. Eating a cashew seed off the tree is poisonous.
The Hermitage restaurant also makes the most delicious yogurt I've ever eaten in my entire life. It's more like a dessert than a breakfast food. On another morning I also tried gooseberry juice for the first time, which was also delicious.
They also make a fabulous lemon marmalade, which I spread on wheat toast with butter on several mornings. There were several times throughout my week there, that I saw the wait staff wander into the gardens of The Hermitage to pull fruits off the trees to serve at the next meal. You can't get fresher food than that!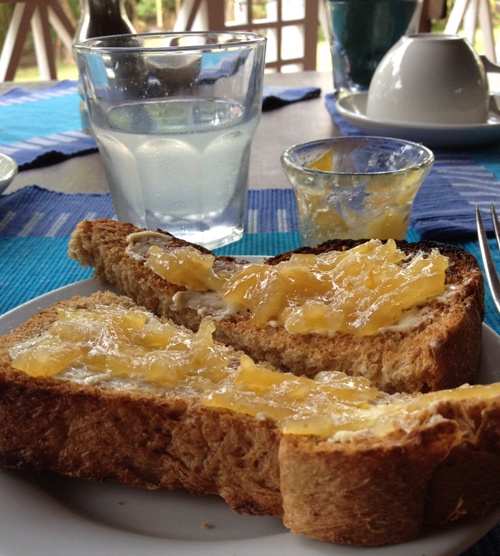 The mangoes are plentiful on Nevis, so I had the opportunity to eat them at most of my meals. They are different from the mangoes I buy in my local grocery store in both color and size. The monkeys on the island really enjoy them too.
I loved the sweet breads that would come with my fruit too. One of my favorite breakfasts at The Hermitage is the omelet with cheddar cheese and creole sauce. Their creole sauce is amazing! It's the perfect blend of sweet and spicy. Even their coffee was good, and I'm very particular about my coffee.
I had the opportunity to chat for a few minutes with Chef Janice at The Hermitage. She is originally from England is a self-taught chef. She lived on St. Kitts, the sister island of Nevis, for 27 years, then moved to Nevis in 2002. Her favorite food to make is appetizers. Her favorite mango dishes to make are salsa and sorbet. She loves working at The Hermitage because of the relaxed environment and the freedom to make whatever she wants depending on what's available at the time.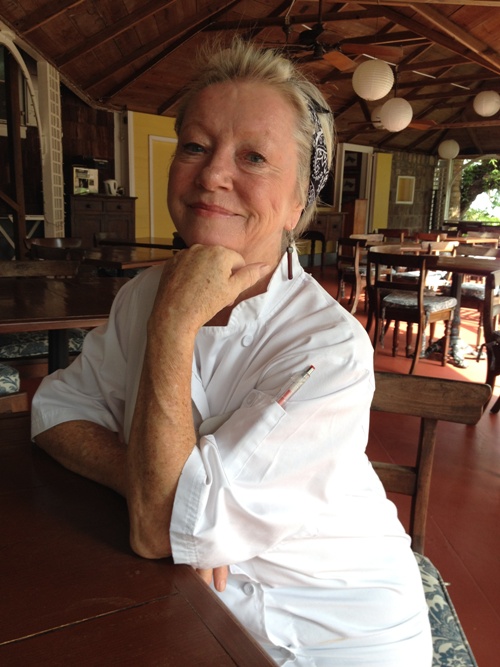 The Hermitage
is a fabulous place on the island of Nevis for breakfast! The wait staff is friendly, the service is excellent, and the food is incredible.
Check out the cottage where I slept
HERE
.
Read more of my travel stories
HERE
.